Obsessions Salon & Spa would like to welcome
Kristi VerHague to our Salon! Kristi is a licensed cosmetologist
and is taking appointments now!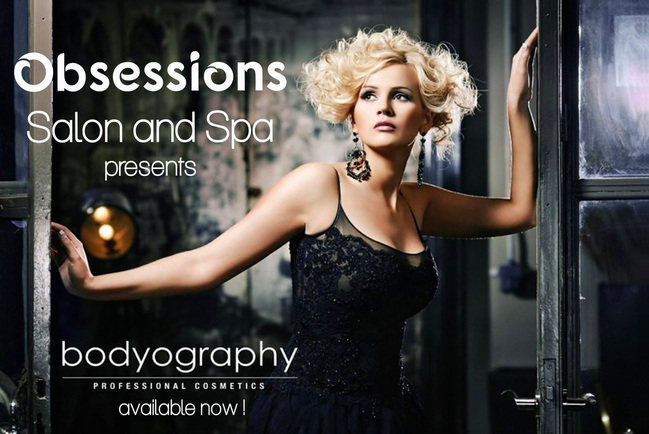 ***NEW***
​Check-out our full line of Bodyography Professional Cosmetic line
available now in our Salon!
---
---
Welcome to Obsessions Salon & Spa, where the focus is on you !

At Obsessions Salon & Spa, our goal is to help you find the look that highlights your true natural beauty. Before cutting or coloring a single strand of your hair, we'll consult with you to create a look that's right for your face type, your hair type, your lifestyle and your personality.
That's because we're more than just about hair. We're also about you, the total you, and your experience with us while you're here. We want you to feel pampered and appreciated while you're with us. You can find plenty of other
hair salons that will just cut your hair. But here at Obsessions Salon & Spa, we have an entire team of hair design, make-up & nail professionals dedicated to helping you relax and enjoy being the center of attention.
Few area hair salons have the resources to take this kind of care of you. Our team of professionals are experts in everything from color and cutting to hair extensions, Global Keratin smoothing therapy, nail services, pedicures, facials, electrolysis, waxing, eyelash extentions and professional make-up artistry. Whether you are looking for a simple style for everyday or a spectacular makeover for a special event, we are ready to make it happen for you. We also use only premium products in our salon "such as Matrix,Goldwell, Bodyography " and the top-of-the-line, Keratin Complex Smoothing Therapy, which can transform frizzy curly hair into straighter shiny and smoother luxurious hair. If you've never had Keratin treatments, you will be amazed at how Keratin Complex Smoothing Therapy can give you the smooth, silky hair of your dreams!
For special occasions, If you're going to be a bride or the mother of a bride, show us your dress and tell us your dreams and we'll create the perfect hairstyle and make-up for your special day. We'll work with you to achieve a look that brings out your natural beauty and feels natural to you at the same time.



Like us on Facebook by clicking the link below: